Middleton Band has made several CD's over the years and we are proud of each one. That is why we always try and have them on sale at our concerts and events, but now you can buy them online through PayPal and we will post them out to you!
To purchase any of these CD's priced at £10 each, please click through and select the 'buy now' option for PayPal. Alternatively send a cheque for £10 and self addressed padded envelope large enough for a CD to the address shown here
Moonraker Brass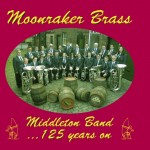 Moonraker Brass was recorded in 2002 to celebrate our 125th Anniversary.
Buy now for only £10 plus £2 postage and packaging!