It's been a busy year at Middleton Band with all the excitement of our 140th celebrations. We have also said goodbye to a number of players through retirement, maternity, and university. We are therefore quite sad to announce two further departures from the band.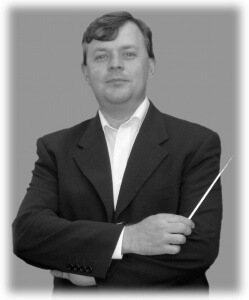 Our Musical Director, Andrew Baker, will be leaving after the Christmas period to pursue other interests. Andrew has had a very successful 11 months with the band. He stepped in to take the band to the area contest as a favour to the band in January 2016. The band really enjoyed Andrew's approach and asked him to stay on permanently as Musical Director. Andrew has indeed left his mark upon the band and has worked hard to develop the band over his tenure. Andrew has  also been very active in making our 140th year a success.  The band have enjoyed his rehearsals tremendously and have enjoyed playing some new and quite different repertoire, in particular, several of Andrews own compositions and arrangements. Andrew leaves us on a high note with a very creditable 4th place finish at Rochdale contest in October on a piece of music never before played at a contest, written especially for the band by Andrew himself specifically for the band's 140th year. We thank Andrew for his work with the band although saddened to part company with him as musical director, we remain on excellent terms and look forward to working with him again in the future.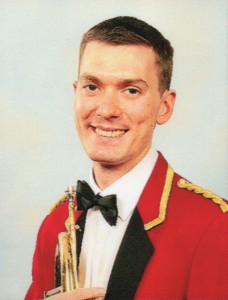 The band also say a sad goodbye to our secretary and flugel horn player Jamie who is moving home to the Isle of Man with his wife Jenny, who has also previously played for the band, and their newborn daughter Matilda.
Jamie has been a key figure in the band's recent history. Joining from Moston & Beswick band almost 10 years ago, Jamie has played cornet in almost every seat before moving onto flugel where he has been doing an excellent job for several years. Jamie has also led the band committee as chairman and most recently as secretary for a number of years. Jamie's drive and determination has certainly steered the band down a very positive and successful path over the years including some excellent feature concerts and concerts with prolific groups such as the Houghton Weavers and James Shepherd Versatile Brass and Neo Brass. Jamie has been pivotal in organising many of the band's 140th celebration events  including single-handedly organising the band's recent tour to the Isle of Man, and what an excellent job he did too.
Jamie and Jenny will be sadly missed by all in the band. We thank them both for their dedication and hard work over the years and wish them well and good luck for the future and hope that we will see them both and their beautiful bundle of joy, Matilda, very soon.
Coming to the end of our 140th year with so many departures of good friends, It feels a bit like the end of an era – however, you can never really leave the Middleton Band family, so we will be in touch!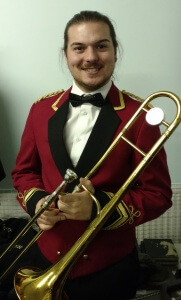 The next 140 years are going to be just as exciting as the last and to kick off our next era in style, we wish to announce the following new appointment to the Middleton Family.
We are delighted to welcome a new face to our team. Our 2nd trombone seat has been taken up by George  Uddin who joins us after a short break in playing.
Welcome to the family George!!