The band have had a ball playing a proms style concert tonight at St Katharine's Blackrod.
We began our concert with 'On the Quarterdeck' then continued with the overture 'The magic Flute'.
Our first soloist Bryce Ford played "My Love is Like a Red Red Rose" perfectly.
The band then got the audience involved in a rendition of Lionel Richie's 'All Night Long' before calming things down with a lovely arrangement of 'Blaenwern.'
Our next soloist was our Solo Horn player, Emma Davies who played 'Over the Rainbow.'
This excellent playing was followed by Music from the film 'Dances with Wolves' followed by Festive Overture by Shostakovic.
We opened the 2nd half with 'Olympic Fanfare and Theme' followed by our 3rd excellent soloist of the evening, our flugle horn player, Tony O'Mara playing 'I Don't Know How to Love Him' from Les Miserables.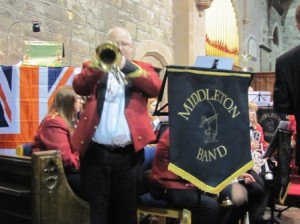 The band next began the last night of the proms set with 'Fantasia on British Sea Songs,' before the final soloists of the evening. Our Soprano and Repiano cornets Louise Crane and Adam Albinson played the 'Post Horn Gallop' on post horns.
The band then completed the proms set with 'Nimrod,' '1914,' 'Jerusalem," Pomp and Circumstance March no 1' and as a finale, 'King Cotton.'
What a brilliant evening we have had entertaining a fantastic receptive audience!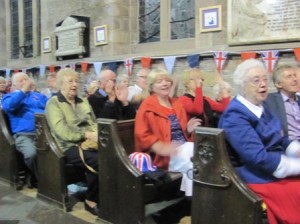 https://www.facebook.com/media/set/?set=a.445239782181158.99720.136325976405875&type=1