The band have once again had a fantastic evening entertaining the friends of Milnrow Parish church at the annual Last Night of the Proms concert.
The band was on top form and the audience in good voice.
The band began the evening with 'Let's face the music and dance' Followed by 'Jubilee Overture' then our first soloist of the evening, Bryce Ford playing ' My love is like a red red rose'. As ever Bryce played beautifully.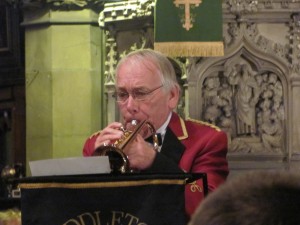 The audience certainly enjoyed  joining in with 'All night long'  before calming things down with 'Irish blessing.'
Next up on the soloist podium was Emma Davies who played her trademark 'Over the rainbow' flawlessly.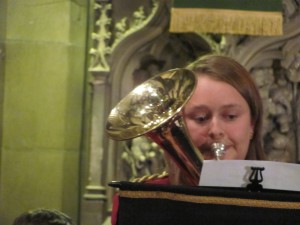 The band lightened the mood next with the dynamic duo Soprano and Repiano cornet players Louise and Adam entertaining the audience with 'Post Horn Gallop'… with some new choreography to keep everyone on their toes!
To end the first half, the band played 'Festive Overture' before sampling the fine tea and cakes!
The 2nd half opened with the impressive 'Olympic fanfare and theme' before our final soloist, Flugle Horn  Tony played 'I don't know how to love him.'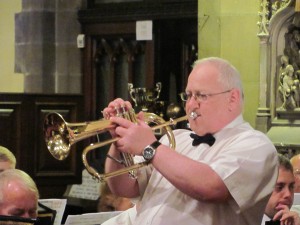 The Last Night of the proms fever then took hold, beginning with 'Fantasia on British sea Songs' then '1914,' 'Nimrod,'  'Jerusalem' and finally 'Pomp and Circumstance.' Complete with waving flags and bowler hats, what a fantastic atmosphere!
The band and audience had a fantastic time and are looking forward to next year!
https://www.facebook.com/media/set/?set=a.450298745008595.101135.136325976405875&type=1