The band have enjoyed an evening playing at Boarshurst Band Club.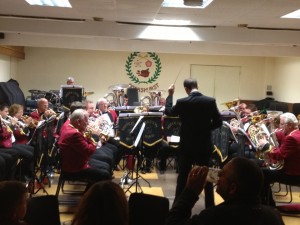 Here is a lovely  review of our performance by John Whittle, taken from here, and used with his kind permission.
"MIDDLETON BAND BROUGHT THEIR AUTUMN SUNSHINE TO BOARSHURST BAND CLUB ON SUNDAY!!
The Middleton Band directed by guest conductor Jonathan Davies, gave the Boarshurst audience a thrilling concert of music on Sunday.
The concert opened with Kenneth J. Alfords march, "On The Quarter Deck". We were then treated to a relatively modern overture in Philip Sparkes' "Jubilee Overture". Some great sounds from a very well-rehearsed band.
Our first solo of the evening was played by principal cornet Bryce Ford. He gave us a beautiful and well-phrased rendition of Gordon Langfords arrangement of "My Love Is Like A Red Red Rose. Superb playing Bryce!
Lionel Ritchies "All Night Long" came next, arranged for brass band by the very talented Leigh Baker. Middleton Band demonstrated their versatility here with a real 'hit pop-song' style. The vocals went in as well, brilliantly sung by the band!
Our second 'solo' spot of the evening was a real treat as we went out with the hounds and post horns – in STEREO! The bands soprano cornet, Louise Crane, and cornet player Adam Albinson, took up their positions on the left and right respectively, complete with beautiful shiny silver plated post horns, and played a brilliant performance of the 'Post Horn Galop'- complete with 'barking hounds' in the background!!
The tempo slowed down next to provide the audience with one of todays' finest tonal arrangements for brass band, "The Irish Blessing", by Joyce Eilers Bacak, arranged by Stephen Bradnum.
The bands third solo of the evening was provided by Emma Davies on tenor horn. She chose to play Harold Arlens' "Over The Rainbow", arranged by Goff Richards. Great playing from Emma, and a lovely sound.
Sunday evening concerts at Boarshurst always include a hymn tune. Tonight the band chose to play Welsh hymn, "Blaenwern" in an arrangement by Nigel Lawless (principal euphonium player with the Diggle Band)
The second half came to a close with a scintillating performance of Shostokovich's "Festive Overture. Wow! The band are on fine form tonight! Excellent playing from all departments.
John Williams "Olympic Fanfare & Theme" opened the second half. This was really well received, particularly after a very successful Olympic games in London last month. Great playing.
One of the best known musicals from Andrew Lloyd Webber is "Jesus Christ Superstar", and our next soloist chose to play the shows' most enduring melody. Tony O'Mara stepped up on flugel horn to play a stunning rendition of J. Graham Walkers' arrangement of "I Don't Know How To Love Him".
Goff Richards contribution to the brass band repertoire is immense. We were next treated to one of his best arrangements, "And The Band Played On".
The horn section and solo cornet featured in the next item – a lovely arrangement by Darrol Barry of "I Dreamed A Dream".
The music of Broadway came next with Irving Berlins' "Puttin' On The Ritz". In this arrangement by Alan Fernie, we could feel the real 'dance band' style as Middleton Band once again showed off their versatility.
Film music came next with a stunning performance of John Barrys' "Dances With Wolves". The horns were simply superb, creating a 'classical' sound as they reached all those high notes with clarity and control. Well played, and what an atmosphere!
Tonights guest conductor, Jonathan Davies, spent a period as a student under the watchful eye of the great Richard Evans, and one of the pieces he conducted under Richard was "I'll Walk With God" by Nicholas Brodszky. In this arrangement by Goff Richards, Jonathan expressed his pride in being able to conduct the Middleton Band in this composition tonight. It was simply beautiful.
As a great finale to tonights' concert, Middleton Band played an arrangement by Goff Richards of Irving Berlins "Lets Face The Music & Dance".
The Boarshurst Band Club would like to congratulate and thank Jonathan Davies and the players of Middleton Band for their great effort tonight in bringing a fabulous concert of top class brass band music to our Sunday Brass audience. We look forward to welcoming you all back very soon, and wish the band all the best of fortune in the forthcoming contest season.
Next week, 21st October, we welcome the ten piece group PHOENIX BRASS to Boarshurst Band Club. Come along and enjoy the lighter side of brass here in the comfort of Boarshurst Band Club – THE place to be on a Sunday night! The concert begins at 8pm, £4 (£3 club members) including printed programme. Doors open at 7pm.
Review by John Whittle. 15/10/2012."