This year our annual awards were made at our Christmas Friends of Middleton band concert, held at St Stephen's, Middleton on Sunday 3rd December
Senior Band
Three awards were made to the senior band this year.
Players' Player – Jonathan Earl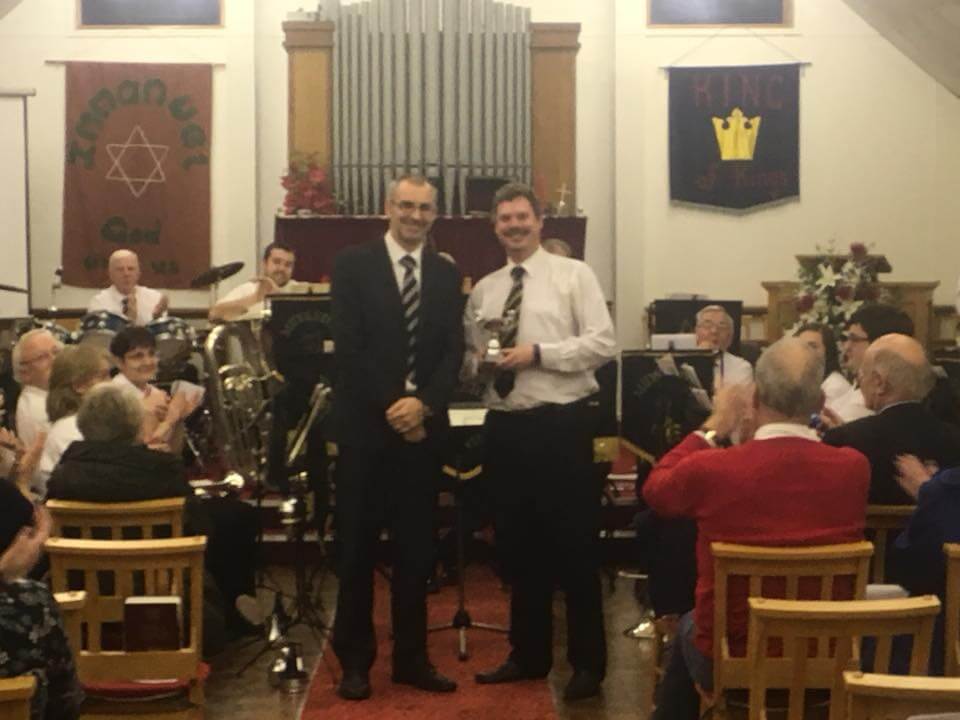 Jonny was voted by band members to be the bands player of the year. Jonny and his wife Tracey joined us earlier this year and already Jonny has become a regular soloist with the band and has clearly impressed the other band members in the short time he has been with us. Well done Jonny!
Bandsperson of the Year – Conor Dalton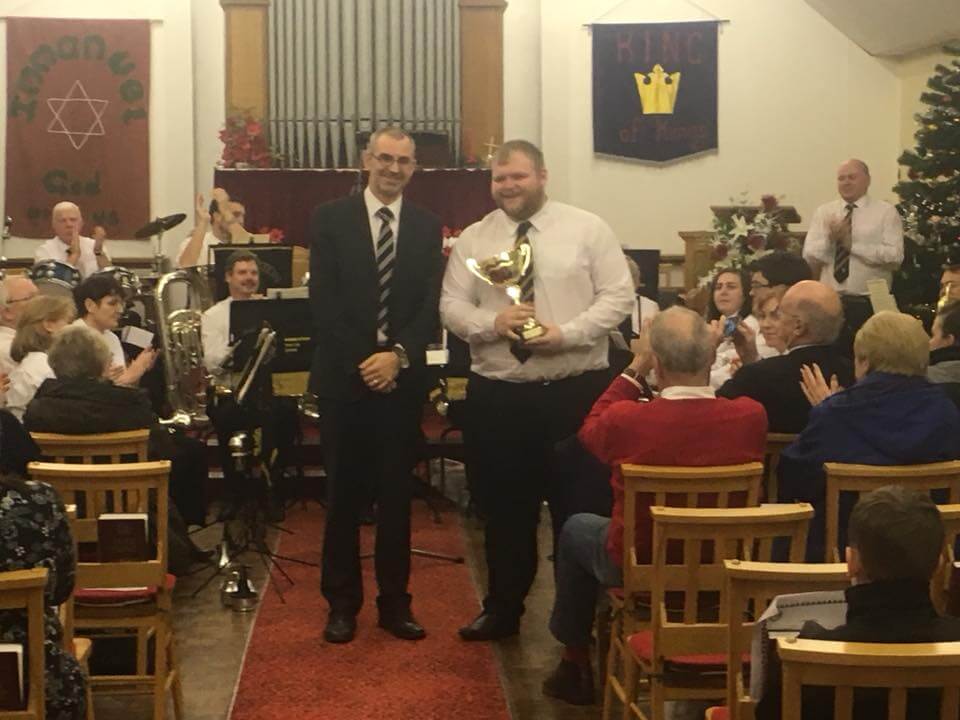 Conor was chosen by our new MD Kevin Gibbs as a player who has shone out during Kevin's tenure with the band. Conor has not only proven himself an exceptional soloist, but has been willing  and able to change instruments from Eb bass to percussion to help the band to be able to attend contests. 
Special award – dedication to the band – Tony O'Mara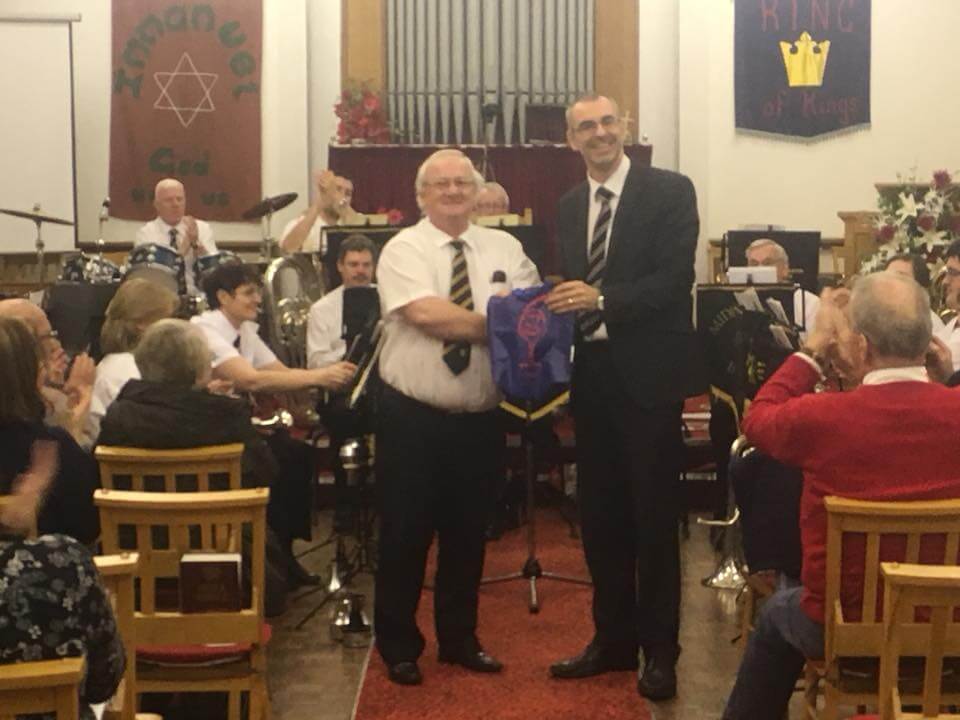 The band committee all felt that Tony deserved some recognition for his dedication to the band, certainly over the past 12 months and indeed since he first joined the band. Tony, without doubt, has the best attendance of anyone in the band and over the past 12 months or so has seen the cornet section evolve around him with many changes. Tony has been the band's constant, and on occasion only front row player. Tony is an excellent player, a regular soloist with the band and a true asset.
Youth Band
Youth band MD Louise had a difficult task once again to select only 3 of the 20 Strong youth band to receive an award.
Player of the year – Cameron Garner-Jones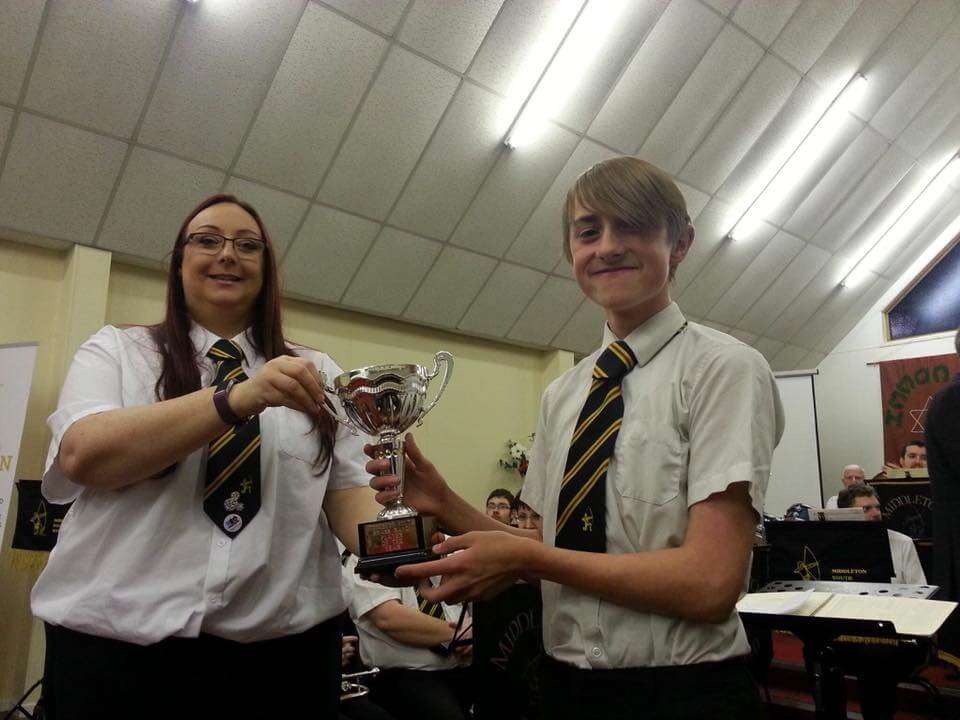 Cameron has really worked hard over the past 18 months and his hard work has shone through with a marked improvement in his playing. Cameron is becoming a very capable player and often attends events such as Whit Friday with the senior band too.
Bandsperson of the year – Holly Rowbotham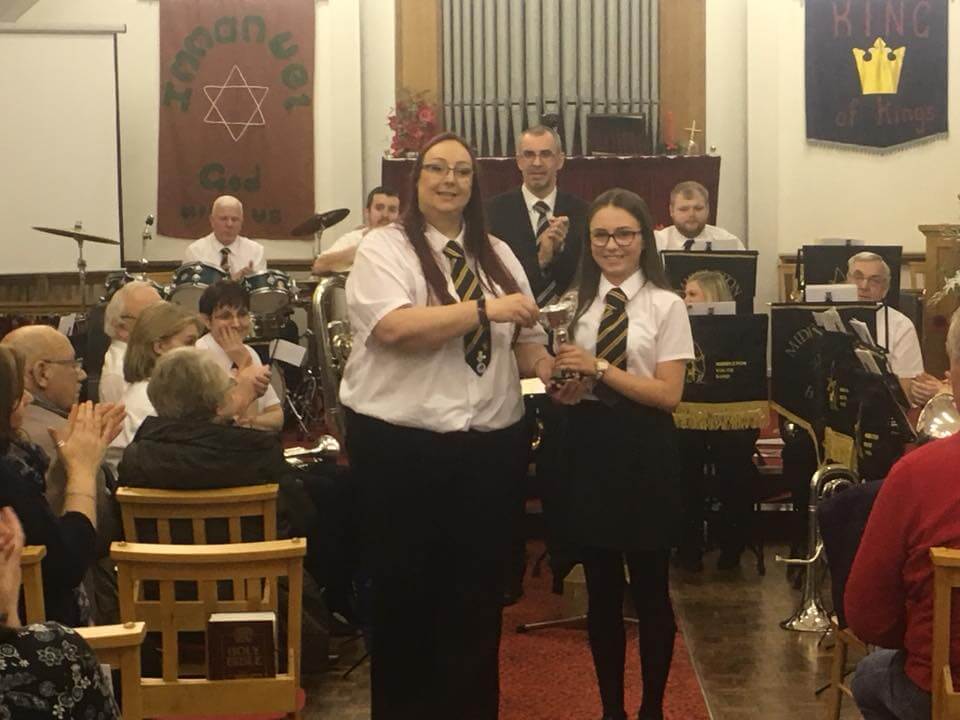 Holly is another player whose dedication has shone out this year.  Holly has seized promotion from 2nd cornet to solo cornet with both hands this year and has really impressed MD Louise with both her playing and her commitment. Holly has proven herself to be a super reliable band member with exemplary attendance and also diligent preparation through home practice.  Through her hard work this year, Holly has also been appointed the band's new principal cornet. Holly regularly plays with the senior band at events such as Whit Friday, Remembrance Sunday and caroling engagements. It won't be long before she bags herself a full-time seat in the senior band!
Young Player of the year -Isabel Murphy
Isabel's progress has been staggering over the last 18 months. She has risen to the challenge of two promotions, from 3rd cornet to 2nd cornet and then to repiano cornet. Isabel also regularly plays at engagements such as caroling and Remembrance Sunday with the senior band too. Another young player to watch out for!