Middleton band are delighted to announce the appointment of their new Musical Director Mr Andrew Baker.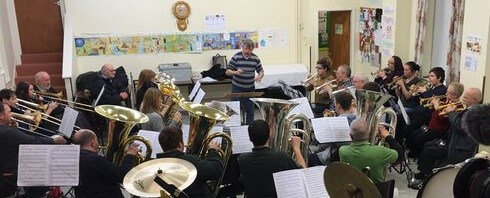 Andrew has been a 'brass bander' throughout his musical career, playing at some of the country's finest concert halls with bands at every level and has also gained considerable experience as a Musical Director, having conducted brass bands at every level, brass ensembles, wind bands and symphony orchestras.
Andrew also brings with him a wealth of experience as a composer and arranger of music. Andrew has been commissioned to write music for a wide range of musical groups and renowned soloists. His compositions have been played all over the world. His most significant work to date The Once and Future King was selected as the test-piece for the third section of the 2007 Swiss National Brass Band Championships, and the work was subsequently selected for the Regional Championships of Great Britain in 2009 and the Irish Championships in 2010.
Andrew is no stranger to Middleton band, he has previously both played in the band and has been commissioned to compose several pieces especially for Middleton band. Andrew's most recent commission, Perseverance, forms the title track to the band's latest CD.
Middleton band are absolutely thrilled to be working with Andrew and are looking forward to a successful future together.
'The appointment of Andrew Baker to the position of Musical Director is a very positive move for the band. This year is the bands 140th Anniversary and we have been working hard with the assistance of Brass Band England to develop a forward looking view and have some great concerts to look forward to. We know Andrew will drive the band forward, bring a fresh approach and challenge the band members beyond their comfort zones."
Our next concert in Middleton is at St. Leonards Parish Church on Saturday 14th May and this promises to be an entertaining evening of Stage and Screen music. Keep an eye out for more info on where you can get hold of your tickets.