Our fabulous Youth band have today recorded their first ever professional track to be part of the main band's 4th CD.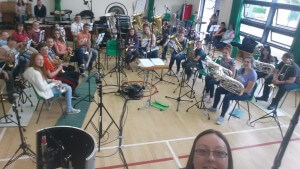 The CD is to commemorate the Middleton band's 140th anniversary in 2016 and will be released before Christmas 2015. The main band are old hands at making CD's, this being our 4th CD, recorded by our friends at Music House Productions. All our CD's including our new CD can be ordered pre/ordered online from here.
The youth band is also celebrating an anniversary, this year marks 20 years since the formation of the youth band.
The youth band goes from strength to strength and has it's own programme of concerts and events. Recently the youth band have played across North Manchester at a range of engagements such as ELR 1940's event, Whit Friday, Foxdenton park, Bury Bandemonium and Heywood 1940's event as well as assisting the main band with a Whit Sunday parade.