The youth band once again took a trip down memory lane at the ELR 1940's event.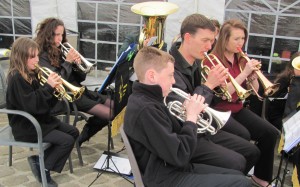 Although the weather was typically British, the band played on under cover of a marquee  to entertain visitors to the annual 1940's event at Bury Transport Museum.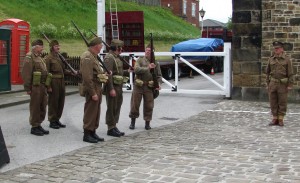 Set amongst the beautiful classic cars on display, the band played a selection of music from the 'noughties' such as Pirates of the Caribbean, all the way back through the decades with well known items such as 'Gonna Fly Now' theme from Rocky  and the 'James Bond'  theme.  Taking the stage for his very first solo was youth band cornettist Lewis, who not only played a solo 'Summer Romance' beautifully, but had the chance to appear as principal cornet for the day. Tremendous job Lewis!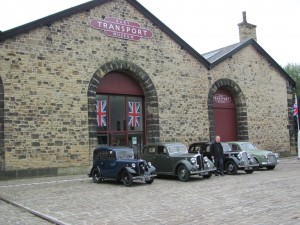 The band rounded off with a full set of 1940's themed music such as the theme tune from Dad's Army, theme from the 'Great Escape', some Glenn Miller numbers and even some numbers from around the era of the First World War in the march '1914'.
The grand finale was a rousing rendition of 'Rule Britannia' followed by 'Wish me luck as you wave me goodbye.'
The band always enjoy playing for the East Lancashire Railway and today was no exception, despite the rain.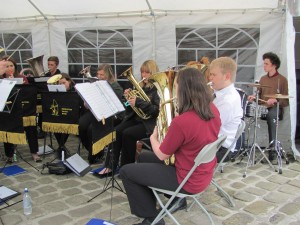 Middleton Youth band would like to thank all our guest players for this event including Jen G from Besses Boys band, past player of the band Jenny R and all the helpers from the Middleton Band who came out to lend their support.
It was lovely to see some familiar faces who always take an interest in the youth band and regularly come to see us at various 1940's events that we have attended over the past few years.
It was also fantastic to receive so many nice comments from visitors to the event about the quality of playing.
The Middleton Band will also be performing for the ELR  1940's event at St' Paul's Church, Ramsbottom on Monday the 26th May, 2.00pm. This promises to be another packed out show so be early to be sure to get a seat for the annual 1940's Proms concert.
https://www.facebook.com/media/set/?set=a.637487229678014.1073741827.151998208226921