Middleton band have been busy, busy, busy with a series of festive performances.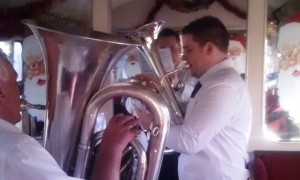 We began our festive season with our usual appearances on the East Lancashire Railway Santa Specials where we have been enertaining passengers with Christmas Carols galore. There are still seats available if you fancy meeting Santa on an authentic steam train. We will be providing the entertainment on all of the Santa trains throughout December.
We began our concert series with a performance at Manchester Cathedral at a Carol concert in aid of Action For Children. We were joined by several  excellent junior choirs and a youth wind band to entertain the packed cathedral and raise money and awareness for the charity. It was a truly magical evening.
Coming up this weekend we have a Community Christmas concert at St Leonard's Church, Middleton. The Rochdale festival choir will join us at this concert to entertain the local community with Christmas cheer. This is a free concert, all are welcome so come join us at 7.30pm on Saturday 8th December!
On the 8th December we have been invited once again to play at Middleton Cricket Club. This is a popular concert and seats must be booked in advance. Tickets can be obtained form the Cricket club itself. See you at 8.00pm!