Another great weekend with excellent playing from all! The band showed just how versatile we can be with our choral version of 'It's a long way to Tipparary' in the march '1914′, Sing as We Go and Dads Army. It was a very busy weekend with the Youth Band doing 8 spots on both days 4 at Kidderminster Station, 2 at Bridgenorth and 2 at Arley.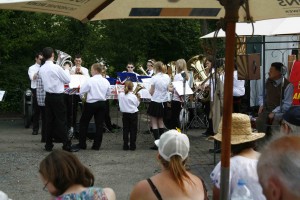 At Bridgenorth we performed alogside Mr. Paul Harper  and the amazing Miss Lola Lamour, who were lovely as always!
There are some more photos on our Facebook page .
Thanks to everyone who supported the Youth Band over the weekends we all had a great time and can not wait for next year! 🙂
If you attended this event and have any photos or video footage you would like to share with us, please send us the links (flikr/youtube) or email them to webmaster@middletonband.com