The band had a ball in Blackrod on the 11th September, after being invited to play a last night of the proms concert in St Katherine's Church. The band played a varied programme including soloists Tenor Horn player Angela Houghton playing 'Misty,' Post Horn'ists' Louise Crane and Adam Albinson playing the 'Post Horn Galop' and Euphonium player Chris Parkinson playing 'Myfanwy.' The concert was rounded off with a traditional last night of the proms set including 'Fantasia on British Sea Songs,' 'Jerusalem,' There'll Always be an England,' 'Pomp and Circumstance March no 1' and 'Redetski March.'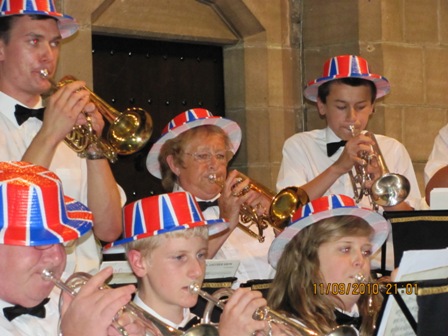 It was also a sad night for us as we said goodbye to one of our extremely talented musicians. Joe Starbuck, the band's Solo Trombone player played his last concert with us as he is about to start University at the Birmingham Conservatoire. The band wish Joe luck and thank him for all his hard work over the past few years, it really has been a pleasure and you will be missed.
For more photographs from the concert check out our facebook page album here.