Middleton Band is delighted to announce the appointment of Rebekah Harrison into the solo Baritone seat.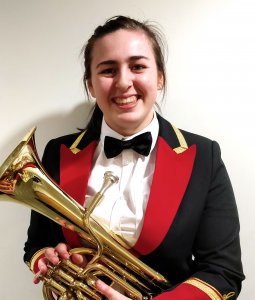 Rebekah has been a member of the Middleton organisation since she was 10 years old.
Rebekah's journey started in the youth band where she played the Euphonium. Over the years she has enjoyed all the youth band had to offer including the opportunity to tour to Disneyland Paris and to play alongside several prolific and professional musical groups. Rebekah grew as a player and became a solid section leader and a regular soloist with the youth band. She was invited to attend senior band rehearsals in 2014 and joined the senior band on a full-time basis in 2016 as the 2nd Baritone player.
Rebekah reflects on her appointment: 'I am most appreciative of the band's confidence in my abilities to take up this opportunity at an exciting time in its history. It has been a delight to be part of the band's growth and successes over the last few years including promotion to the First Section. I am looking forward to the challenge of competing at this next level, as well as working with band MD Kevin Gibbs and all the talented players within the band's current set up.
Band secretary and former 1st Baritone player Aaron Hayes commented on the appointment: 'I take great pride in my decision to step aside and allow Rebekah the opportunity to experience the seat, Rebekah has developed into an excellent player and it is rewarding to see her continue to grow. Her promotion is a testimony to the hard work we do with our younger players, they are the future of the organisation. Hopefully, our current youth band players and their parents will read this and know that all of the hard work and commitment really does pay off'.
Middleton Band is a registered charity, they offer free instrument hire and tuition to youth in and around their local area. The band boast several beginner groups,
a training band and a youth band. They are always looking for players with some experience to join the youth band, for more details or to register your interest to join please contact youthband@middletonband.com