Middleton Band is deeply saddened to report the death of our retired member, Bob Tresadern. Bob passed away peacefully in the early hours of Sunday 8th April at the Manchester Royal Infirmary where he had been very poorly for some time.
Bob was a tremendous driving force behind Middleton band during his tenure. He was an active member of the committee and was a fantastic contest secretary and the best 3rd cornet player a band could hope to have. A more dedicated, reliable and loyal bandsman you can not find.
Bob joined Middleton band along with Sylvia Risby, Jamie Wade, Dave Taylor, Anthony O'Mara, Fumika Kimura and Michelle Mayo from Moston and Beswick Band where he was also the driving force behind the band.
Bob enjoyed many glorious moments with Middleton Band including several contests wins, especially winning the finals in 2007 before retiring in 2016 alongside his band partner in crime Sylvia Risby.
The band visited Bob in hospital on Easter Sunday, shortly before he passed away to play a selection of music chosen by Bob. Here is a video of 'Orange Juice'  taken by his family from that visit.
Bob later asked to see the trophies that the band has won recently so we popped along with those and cheered him up immensely.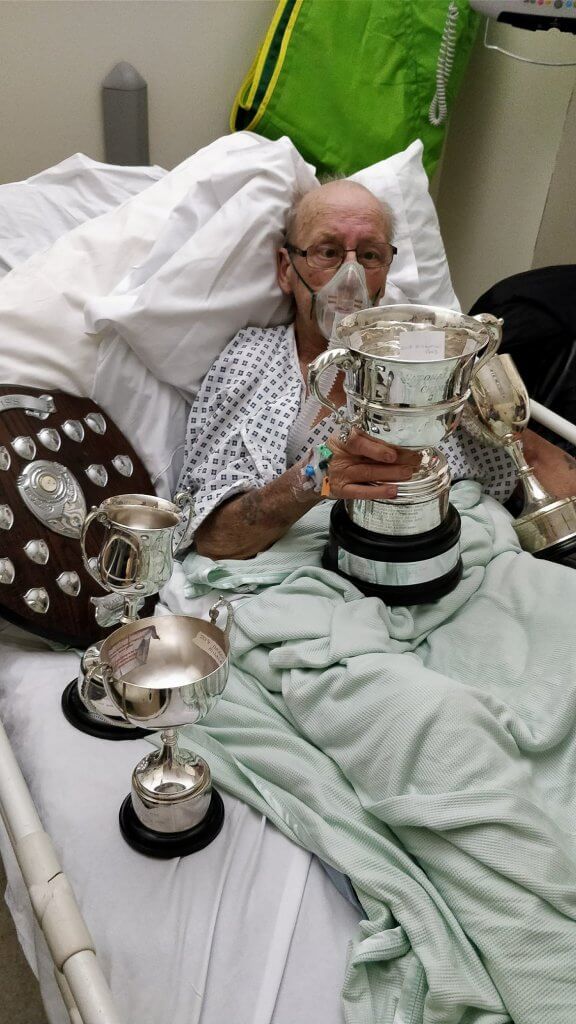 The band were all very sad to hear of Bob's passing and dedicated one of the hymns we had played for him at the hospital in our concert that afternoon.  Fred Houghton gave a short speech to the audience about Bob's immense contribution to our band and his banding career. a very poignant moment for all.
Bob's funeral will be held at Blackley Crematorium on Monday 23rd April at 11.00AM
Bob's family have asked the band to play at the service and have requested some of the pieces Bob had chosen for us to play for him in hospital. Irish Blessing, Deep Harmony and Orange Juice.
Many of Bob's banding friends have asked to play with the band at Bob's funeral. Anyone who knew Bob is very welcome to play with the band. Please let Fred Houghton know ASAP if you would like to play with the band so we can make arrangements for music and stands etc. fredwhoughton@gmail.com  Players are requested to arrive at the crematorium by 10.30 AM, please.