Middleton Band, 2nd section North West Regional Champions, are delighted to announce two new signings.
The band are pleased to welcome Victoria Taylor who, after a long leave of absence, has returned to the band. Victoria brings with her a vast wealth of experience and is a valuable addition to the front row.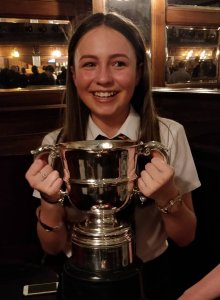 Our second signing is the youngest addition to the ranks; Holly Rowbotham. Holly joins us from our youth band where she is currently the principal cornet. At just 13 years old Holly has made a huge impact on our back row.
The band are still inviting applications for a tutti cornet to complete the team ready for Whit Friday and the Finals in September.
Aaron Hayes, Secretary commented 'Both Tori and Holly were instrumental to our recent victory in the area contest and we are pleased to welcome both to the team. Our sights are now firmly set on fundraising and preparation for the National Finals in Cheltenham.'
Middleton band has a long-standing commitment to encouraging the development of its youth players, bringing Holly into the main band is a true reflection of that. The band's newly formed training band rehearse on a Monday night 17:45-18:40, followed by the Youth band from 18:45-19:45. Instrument hire and tuition are free to all players.