It is the end of an era at Middleton Band as Bob Tresadern and Sylvia Risby have decided that the time is right for them to retire from playing after a whopping 65 years of service each.
Both Bob and Sylvia both began their playing careers around 1950. Bob began having lessons at Besses o' th' Barn band with a Sop player called Pat Edgar. From Besses, Bob moved to Prestwich band and a stint in the Army band before settling at Moston & Beswick band from 1970 until the band folded in 2006. Bob's best moments in banding include playing with Moston & Beswick as they played their way up the sections from the 4th Section to 1st Section and finishing at the top of the 1st Section.
Sylvia started playing for Beswick prize band in 1950 until they amalgamated with Moston to form Moston & Beswick band in 1965. Sylvia remained with Moston & Beswick until they folded in 2006. Sylvia's best moments in banding include winning a solo cornet medal in the 70's at Preston and winning the 3rd Section National Finals with Middleton Band in 2007.
Bob and Sylvia joined Middleton band in 2006 along with several other members of Moston & Beswick band. Since then, they have both held key roles on the committee of Middleton band and have helped to steer the band to win the National Finals in 2007 and on into the 2nd section.
Bob and Sylvia both received their 60 years service awards in 2011, presented to them by Peter Bates from the North West Area Brass Band Association.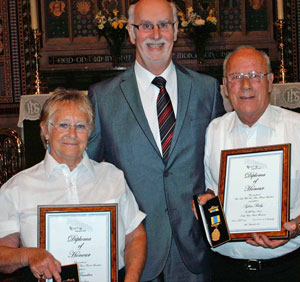 Bob and Sylvia are both very well known in local banding circles and have received many good wishes from banders far and wide since deciding to retire. Some of the well wishers' comments passed to the band include "Unofficial Auntie & Uncle of god knows how many banders who grew up through the ranks through Moston & Beswick and then Middleton", "Proper bandsmen are Bob and Sylvia, it's been a pleasure to be able to play in a few bands with you. Thanks guys", "Good luck to the two of you. Absolute legends".
We sent them both off to retirement in style with a special celebration at our concert with Neo Brass. We presented them both with a framed photo of our National finals win in 2007, signed by all the band.
Although we are very sad to see them hang up their cornets, we hope to see them often because you can never really leave Middleton Band – it's a lifetime membership.
The band wish to thank Bob and Sylvia for their commitment,  dedication, and hard work over the years from all the band. We've shared some fantastic successes together and got through some tough times too. We wish them good luck in their retirement and hope to see them both soon.