On Saturday 10th  September, Middleton Band performed  a 'Last Night of the Proms' concert at Milnrow Parish Church, Milnrow, Rochdale.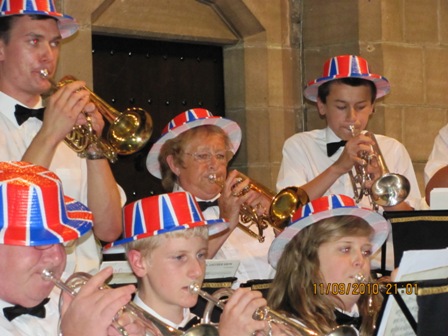 The church was packed with a well attired audience fit for the Royal Albert Hall itself.
The band played a varied repertoire starting with the march Punchinello and Salute to Sullivan.
The band is fortunate to have a wealth of talented soloists amongst its ranks and on this occaision, principal cornet Bryce Forde took the first solo spot with Share My Yoke.
Next up, the band treated the audience to a preview of the entertainment contest selection chosen for Bolsover contest the following day. This selection included Stick Figures arranged by our own MD Carl Whiteoak, On with the Motley played by soprano cornet player Louise Crane, Batman, Crimond and Birdland to finish.
To follow, our newest Tuba section recruit, Conor Dalton, took the opportunity to play his very first ever solo, Tuba Smarties.
The concert was rounded off in true last night of the proms style with Fantasia on British Sea Songs, Nimrod, Jerusalem and Pomp and Circumstance March no1 ( Land of Hope and Glory.)