Another brilliant weekend with excellent playing from all! The band showed just how versatile we can be with our choral version of 'It's a long way to Tipparary' in the march '1914', our crowd stopping choreography in 'In the mood' and the 'mystery ending' uniquely choreographed, taking the crowd and David by surprise every time in 'Bandstand Boogie!'
The audience were keen to join in our new Olympic style conducting event with our record for the 'baton relay' being 10, that's 10 unsuspecting passers by, roped into conducting the band all in the space of just one piece! It's a record!!
The band were also proud to play at the event closing ceremony with our very own Kevin Smith being invited to play the last post at the remembrance service. The band then gave an uplifting 'Last night of the Prom's' style concert to round off the event.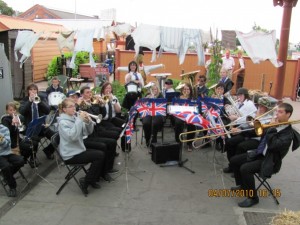 Not only can they play, sing, dance and generally entertain whilst wielding a brass instrument,  the Middleton Youth Band formation dance troupe made their debut in a joint rendition of the Andrews sisters golden oldie 'Rum and Coca Cola' with the fantastic Lola Lamour.
Lola says "Great fun again this weekend. You lot are great sports & really add to the event!"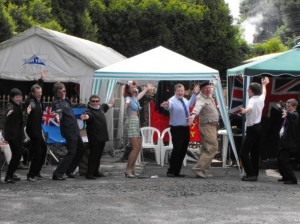 More photos and videos can be found on our facebook group page here.